iorys Compliance
A cutting-edge ledger and back-end with all required
functionality for any modern bank
or a Fintech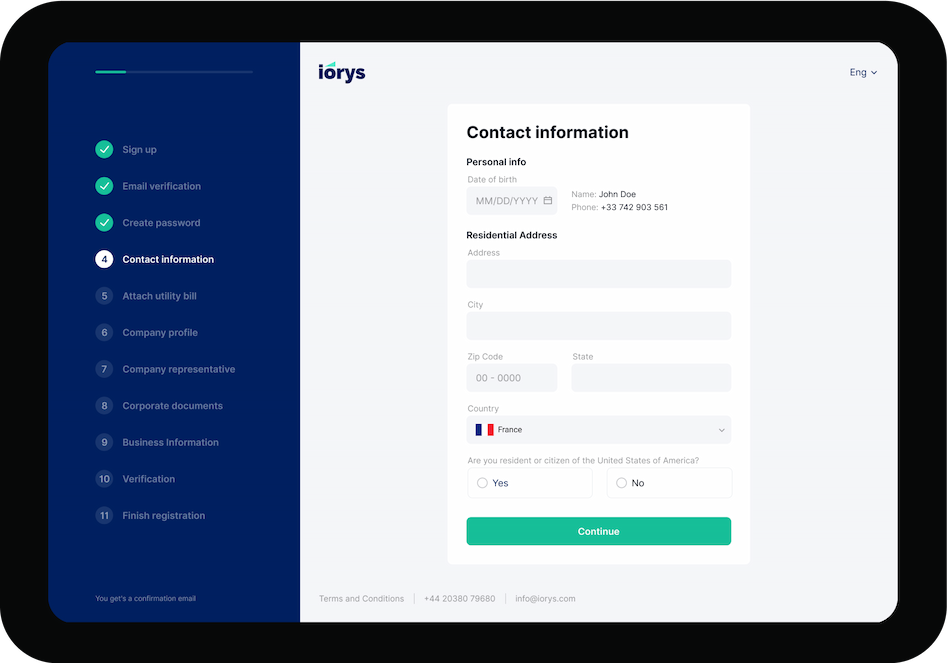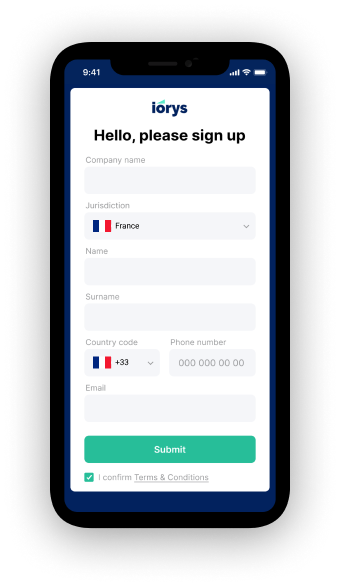 Onboarding
Fast, remote and seamless onboarding process is the crucial element for attracting clients. Based on European best practices, we have developed a step-by-step process with an outstanding design and user experience, that will enable clients to apply for your services with minimum efforts.
Confirmation of email/phone number
Assignment of risk scoring with specific limits for operations
Setting conditions for automated approval/rejection of new clients based on numerous parameters
Fully customisable based on your business model
Onboarding from web or a mobile
Adaptive to complex corporate structures (including holdings, partnerships, etc.)
Agents

Possibility to initiate account opening process from any 3rd party website/platform for with automatic attachment of clients to a specific agent.
Integrated 3rd party AML providers make the journey even more efficient
Automated screening through sanctioned and PEP lists
Automated input of ID details via OCR
Automated ID verification based on MRZ and other parameters
Online remote photo/video identification
Protect your company and connect with simple and seamless solutions offered by our external identity verifications partner companies.
Increase regulatory expectations and AML control over your clients by automatizing many compliance functions. We help to improve efficiency of your AML department, as well as to make right decisions faster.
iorys screening

iorys is directly connected to 20 major sanction lists in Europe and worldwide. It allows financial entities to screen its existing clients, as well as counterparties of incoming/outgoing transactions for FREE.
Setting fire-walls based on multiple parameters (amount, country of the counterparty, currency, key words in payment details, etc.) for incoming and outgoing payments
Automatic screening of incoming/outgoing transactions through sanction lists
Setting conditions for acceptance of certain transactions by Head of Compliance
Integration of your tailor-made risk matrix
Tracking and blocking access to online banking from certain countries/IP addresses
Daily/weekly screening of all clients through sanction lists
Setting your own «black-list» of entities, countries, currencies and names of banks/EMIs, that require manual monitoring
Automatic reminders about expired ID documents or legal powers for accessing an account
iorys compliance in brief
We sign-up more clients
Iorys helps to increase conversions by up to 83% with fast and seamless onboarding

We cut your expenses
Save on compliance staff and reduce costs of using multiple AML providers

We minimize your risks
Stay compliant and reduce fraud