Use case >Virtual Ibans
Get Your Own European IBAN Account
iorys offers the ability for licensed financial institutions to help them issue virtual Ibans for managing their clients incoming funds when dealing with a large amount of incoming or outgoing transactions.
Issue thousands of IBANS in seconds
As a financial institutions serving clients with needs to manage mass payments, Iorys API allows you to generate and issue unlimited amounts of IBANS based on your business and need to facilitate the funds reconciliation.
Using virtual IBANS is similar to having thousands of banks accounts, it can be used for a number of industries as listed below and ease accounts and treasury management.
The triggers and settings can be configured with an endless amount of parameter such as validity time, limits of incoming or outgoing funds, it can as well be coupled to invoicing system, and trigger any action.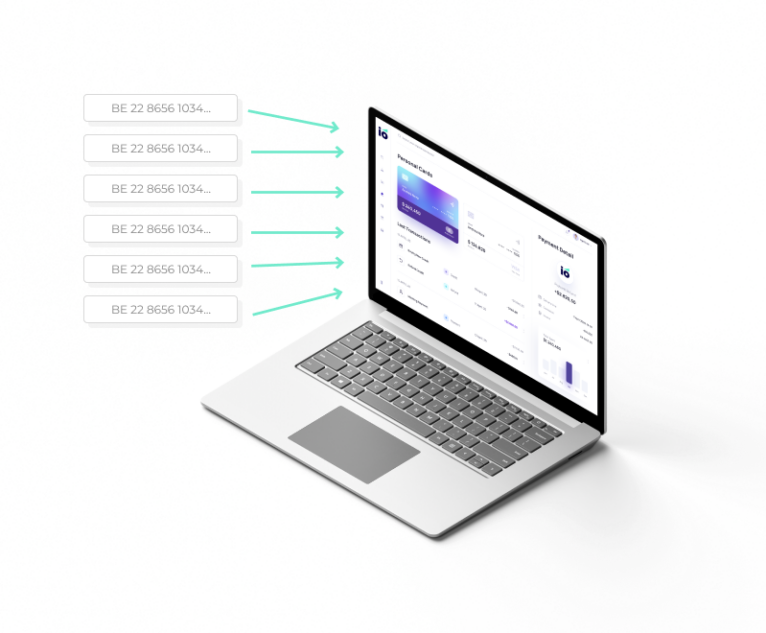 DISCOVER THE USE OF
VIRTUAL IBAN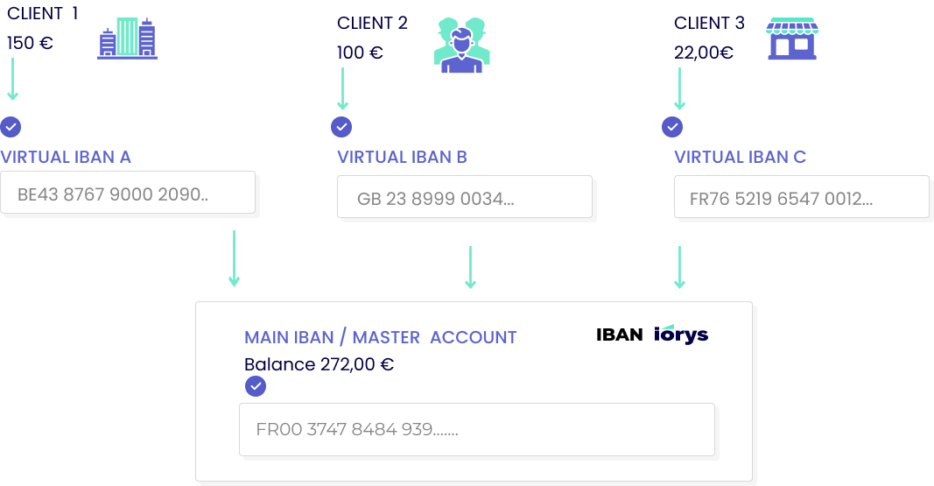 Check how your clients can benefit of
virtual ibans
Issuing your own IBANS allows you to control all of the money flow
Accounting firms,
for reconciliation
To simplify thousands of incoming payments, you can allocate an IBAN to pay on for each single client that matches your accounting system.You can use virtual IBANS for tax payment, provision of salaries, receivables, invoices, you can track balances of clients debts by automatic match of accounts receivables/payments and generate notifications and set triggers.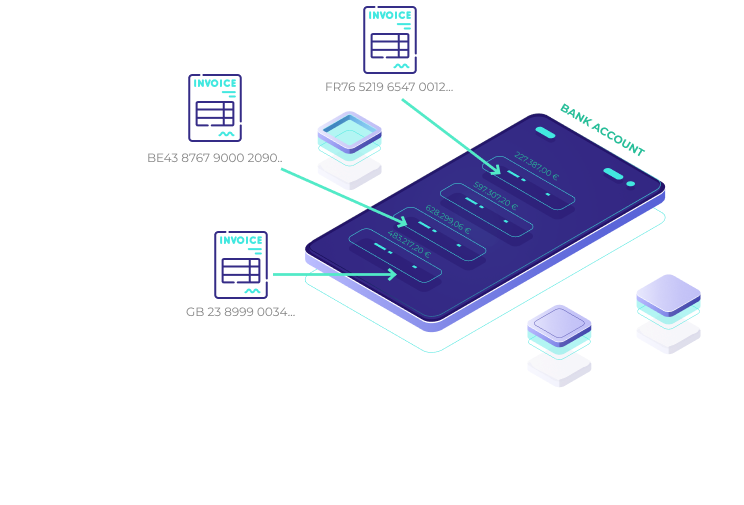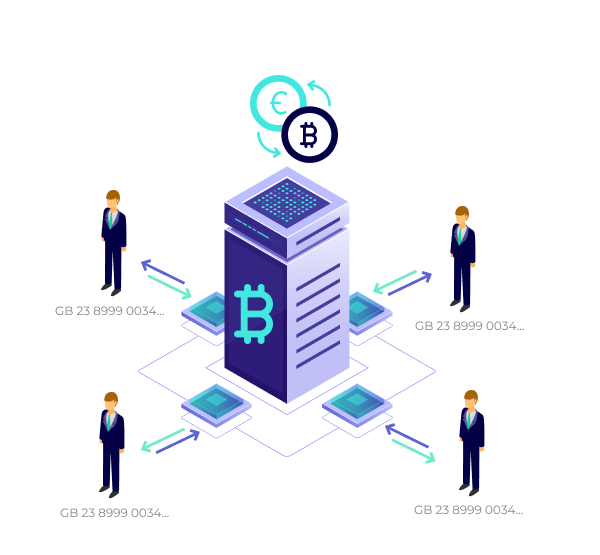 Crypto Exchange for money
collection and account
management
Crypto Exchanges or Trading platforms no longer suffers from banking issue. Simply use IORYS Virtual IBANs issuing solution so each clients funds their own private accounts from their traditional bank.This solves all compliance and AML challenges, pays in and payouts are managed with ease and in full compliance.
Forex / Brokers for fund
collection and payout
Custodians banks are not dimensioned to manage hundreds of incoming payments from various private or coporate clients? Get IORYS issuing IBANs Solution and give each of your client a dedicated IBAN on his name to fund and withdraw funds.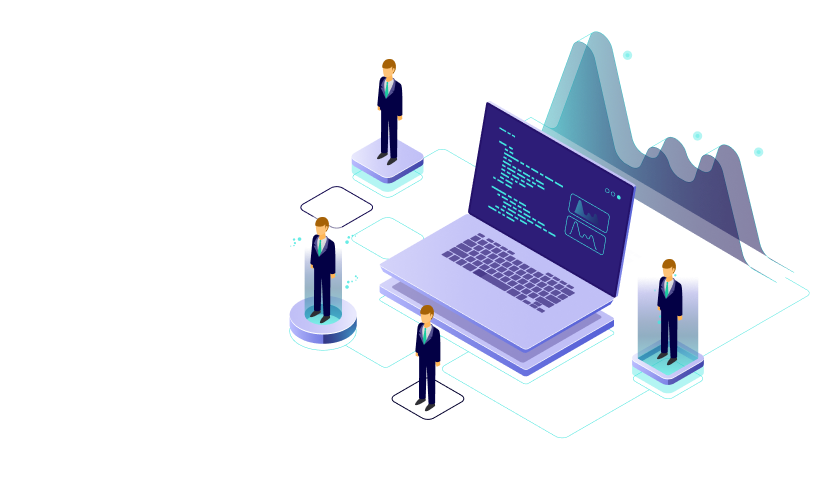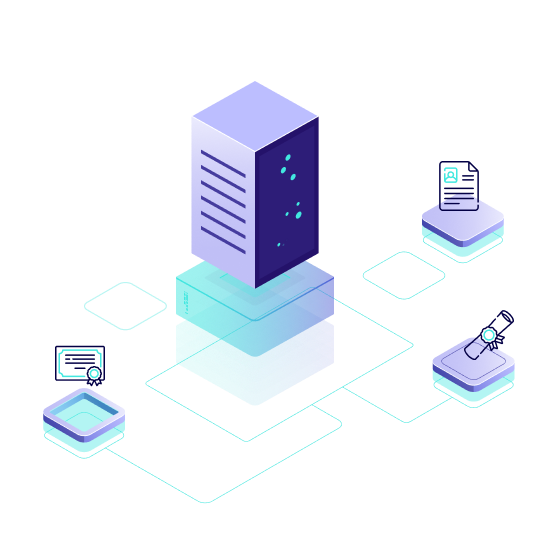 Company Formation agents,
can now open accounts
If your business depends on yoru ability to open bank accounts for your clients, solve that and issue IBANs at the time of company formation.Based on your jurisdiction you may even issue temporary accounts for share capital issuance prior to company registration at the registry. (BE,FR,LU etc)
Payroll management
& payments simplified
Making hundreds of Payrolls every month and as many bank transfers ? Make it simple, with IORYS you can allocate an IBAN to each of your employees and have their wages paid in seconds to their IBAN account, they can then use the account or decide to wire it out to their traditional bank account.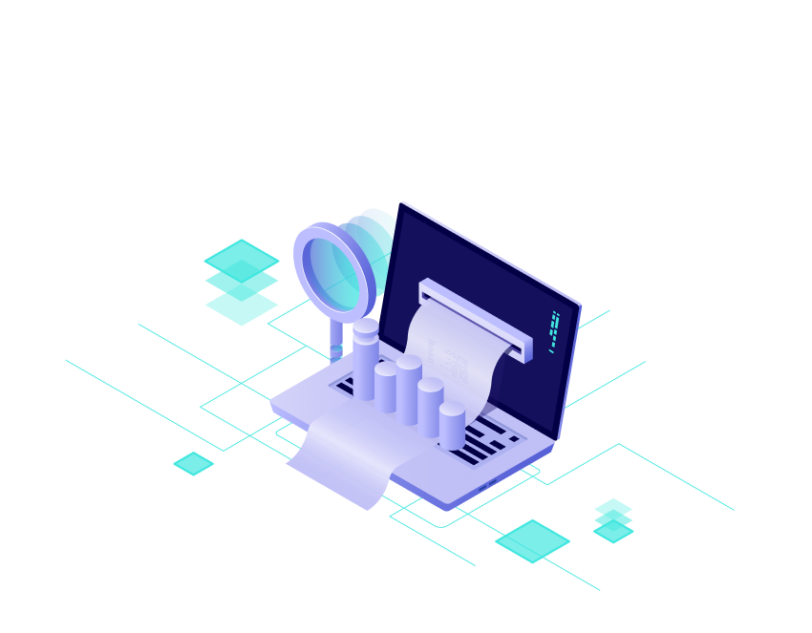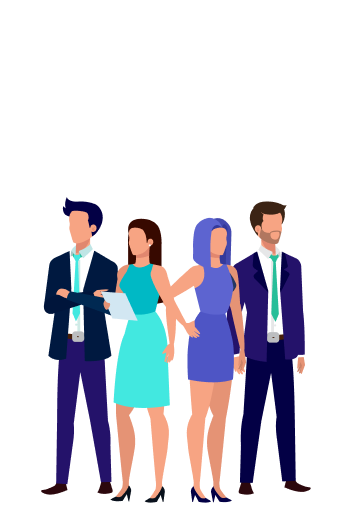 Asset managers and
Family Offices
Familly Offices and Asset Managers needs current acocunts for their clients needs that is not associated with other private banking investments accounts. Get all the features of a private account or trading corporate account to allow your client use funds on day to day in distinction from their portfolio management.
Fintech and Money
Operators
Iorys offers everything you need to set up your online bank in no time. Our Iban issuing service will allow you to launch your bank, power your offer, attract client and give them accounts managements tools for day to day use, both for private and corporate accounts management.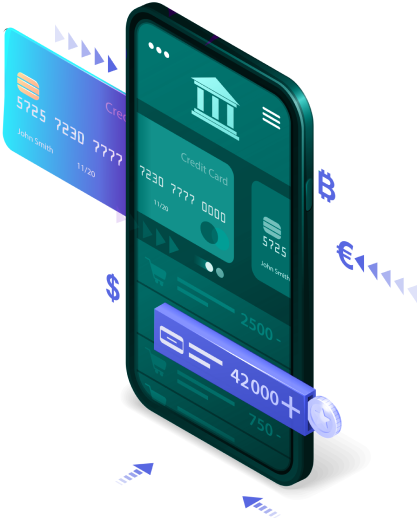 Bureau de Change for reconciliation
Managing hundreds of deals daily with various currencies and wish to have an easy accounts reconciliation, liquidity pools, and treasury management ?
Use Iorys IBAN's issuing services to generate as many IBANs as needed, you can identify your customers but also your own treasury and funds.
Real estate collection
of rent payments
Make collections of Real estate rents easy with issuing a different IBAN to each client and identify payments, expenses, taxes and various payments linked to each client.Never dive anymore into your bank account to identify who paid for what !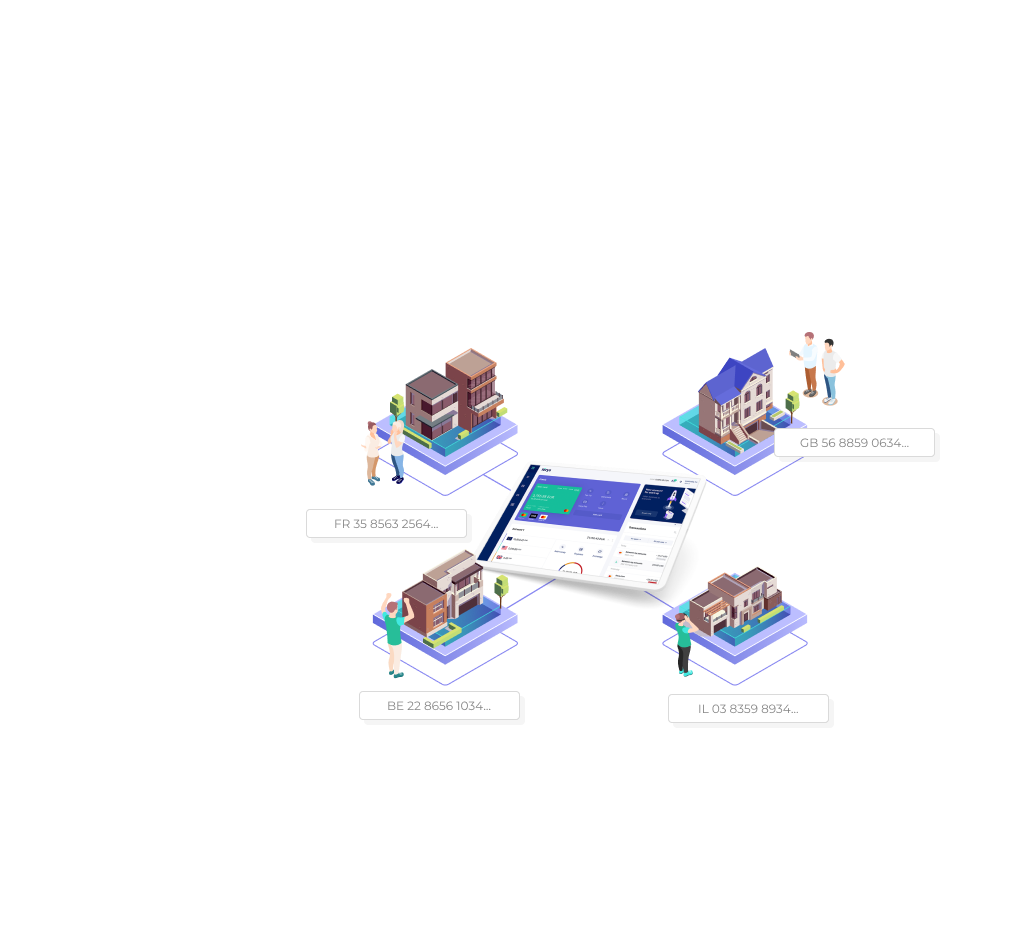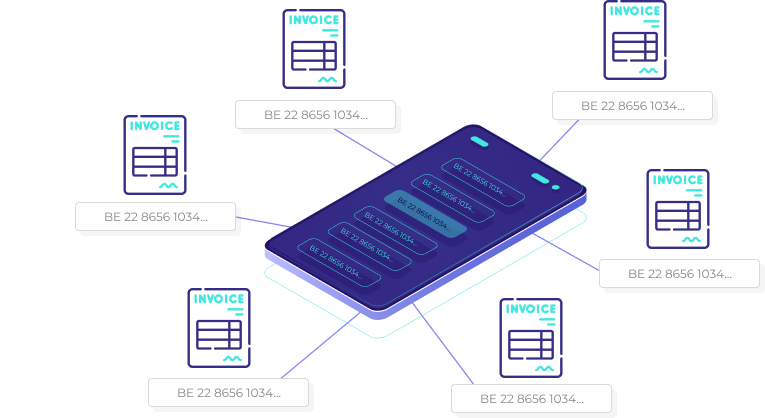 Invoicing made simple with one IBAN per client or invoice
Identifying your clients payments, and deducing remaining to be paid is the easiest task with Iorys IBAN's issuing service.
You can allocate a different IBAN for each client or for each invoice and get an instant reconciliation of your outstandign amounts.
Treasury Management for
multinational companies
Manage your international structure, subsidiaries, treasury and other accounts in one single platform.
Move money between companies and accounts in second and get a full picture of your cashflow and treasury with Iorys IBANs issuing service.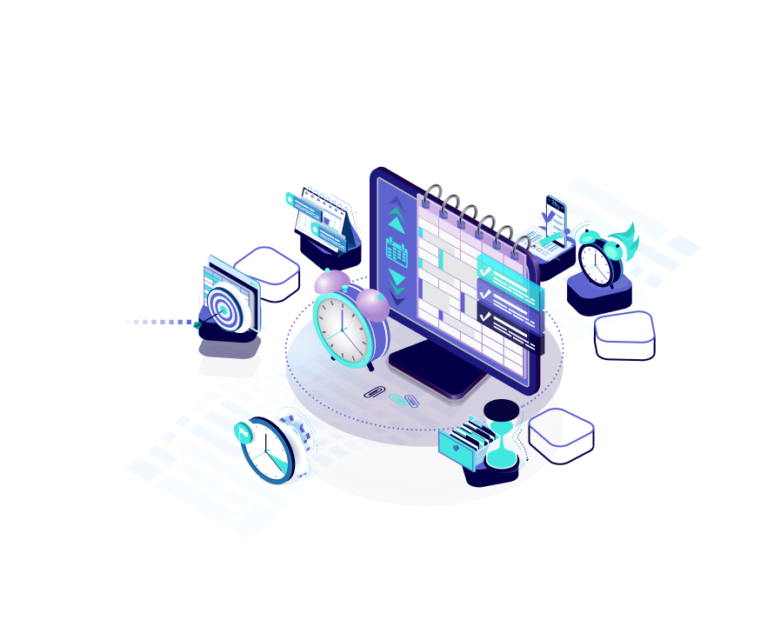 Check our Demo
Are you an e-money instution representative or payment service provider ? Drop us some information
about your company and let's schedule a demo of our APIs and Platform.